Peppermint is an herbal star of the holidays, but it's valued in ways that go beyond peppermint bark flavored hot chocolate, and those red and white candy canes we all know and love. Peppermint essential oil is treasured for its invigorating, refreshing aroma—one that's loved year-round. Let's get to know organic peppermint oil a little better.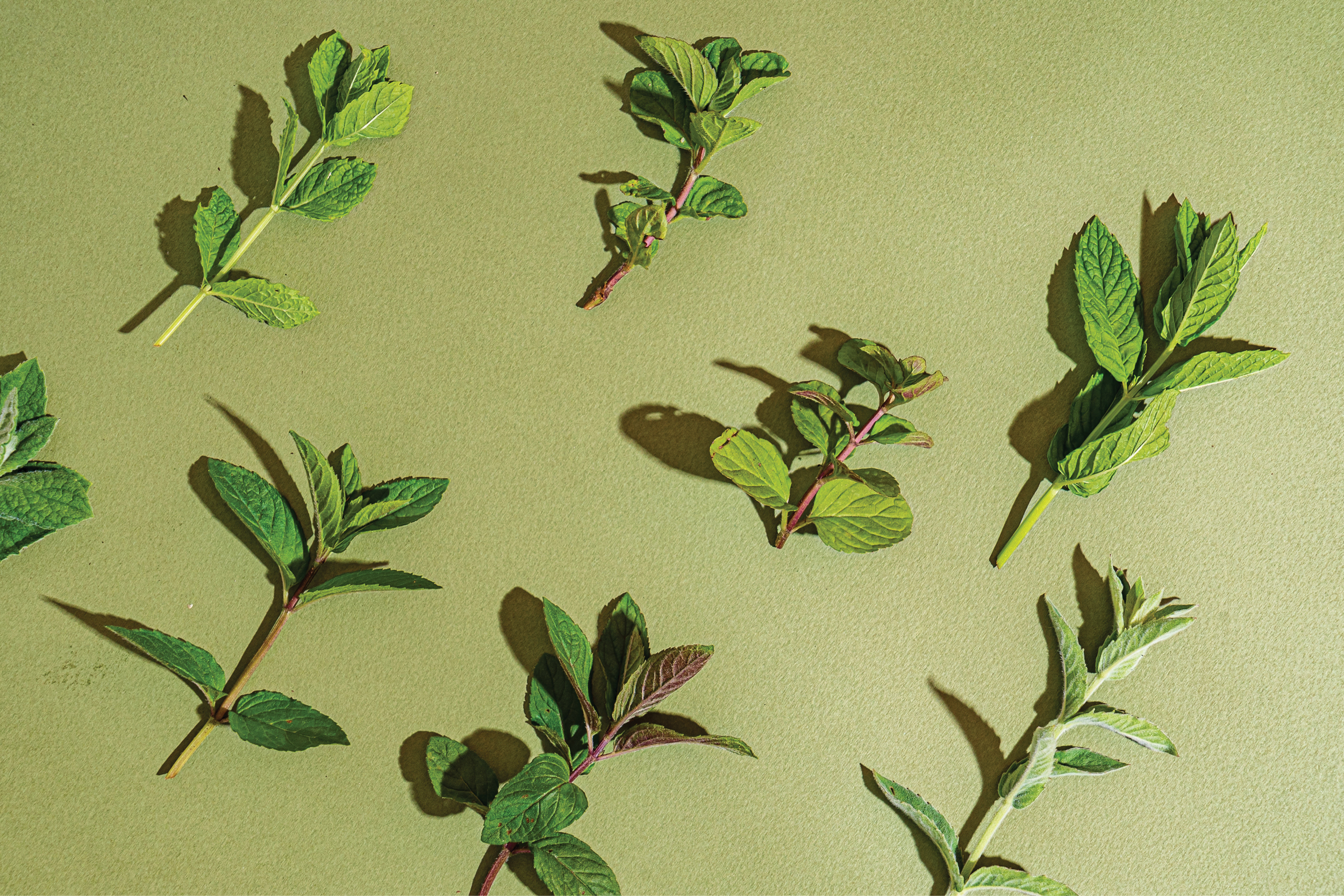 Organic Peppermint Essential Oil: Origins
A hybrid species of mint, peppermint (Mentha x piperita) is a cross between spearmint and watermint. It's indigenous in the Middle East and Europe, but is now cultivated in nearly all parts of the world. The herbaceous perennial plant has green leaves and is fast-growing—as anyone with culinary mint in their garden can attest to!
Thanks to its high menthol content, peppermint has an aroma that is all at once strong, minty, and cooling.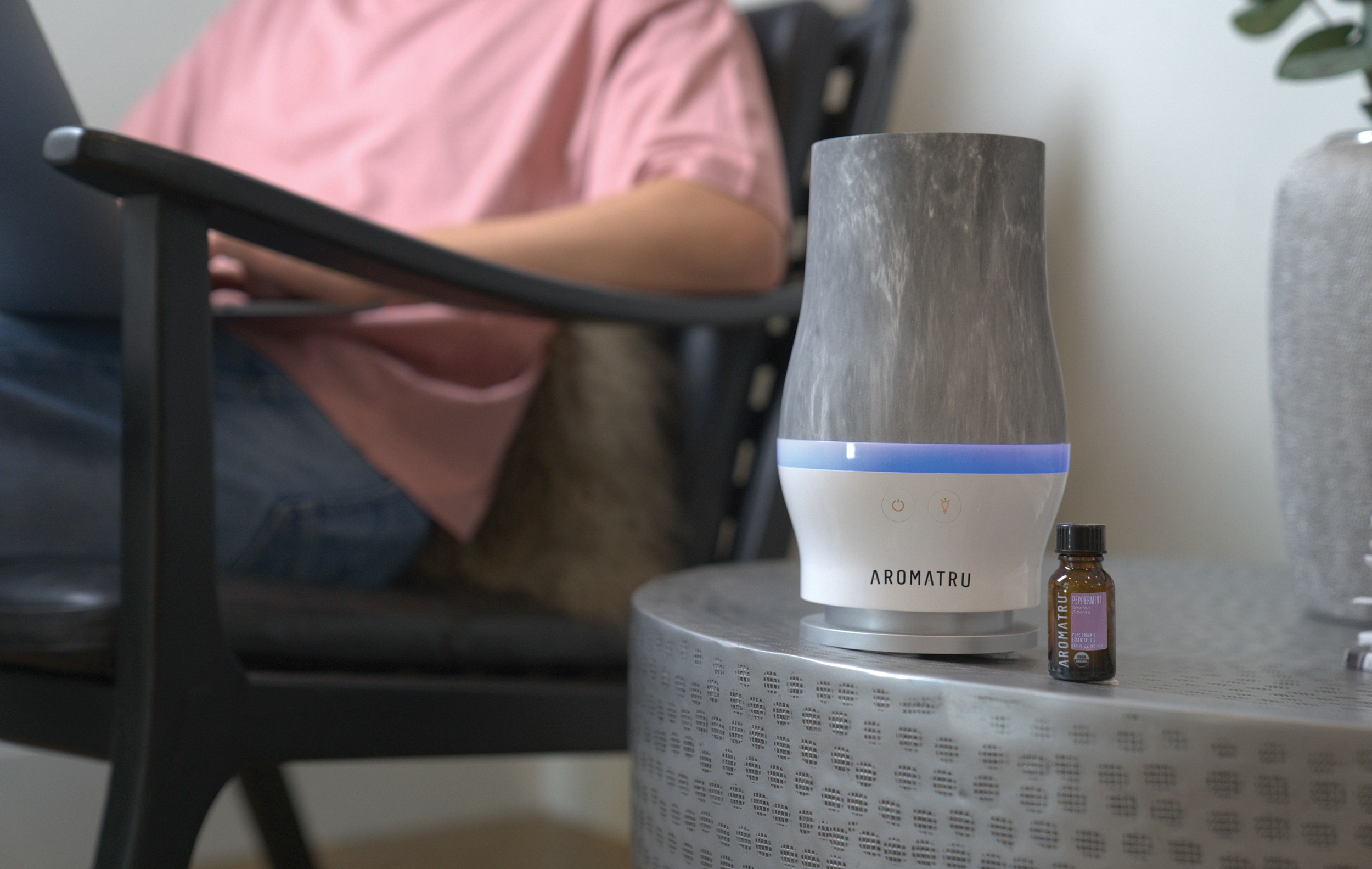 Organic Peppermint Oil provides a Refreshed Environment
What does peppermint essential oil do for your indoor space? Well, there are few aromas that announce their presence more profoundly than Organic Peppermint Essential Oil. This is why peppermint is such a go-to fragrance for its ability to cleanse an internal environment.
Not only can peppermint essential oil be used to rid the air of unpleasant odors from pets or cooking; but the invigorating, fresh, herbaceous aroma is also conducive to study or work. It can be supportive of focus and can assist with mental clarity. Many view peppermint as a top essential oil for a revitalized mood, relieved stress, and boosted motivation.
How to Use Peppermint Oil:
Suggested Diffuser Blends
While organic peppermint essential oil can work wonders when diffused on its own; the crisp, minty, and slightly-sweet scent can also mix well with a range of other organic essential oils.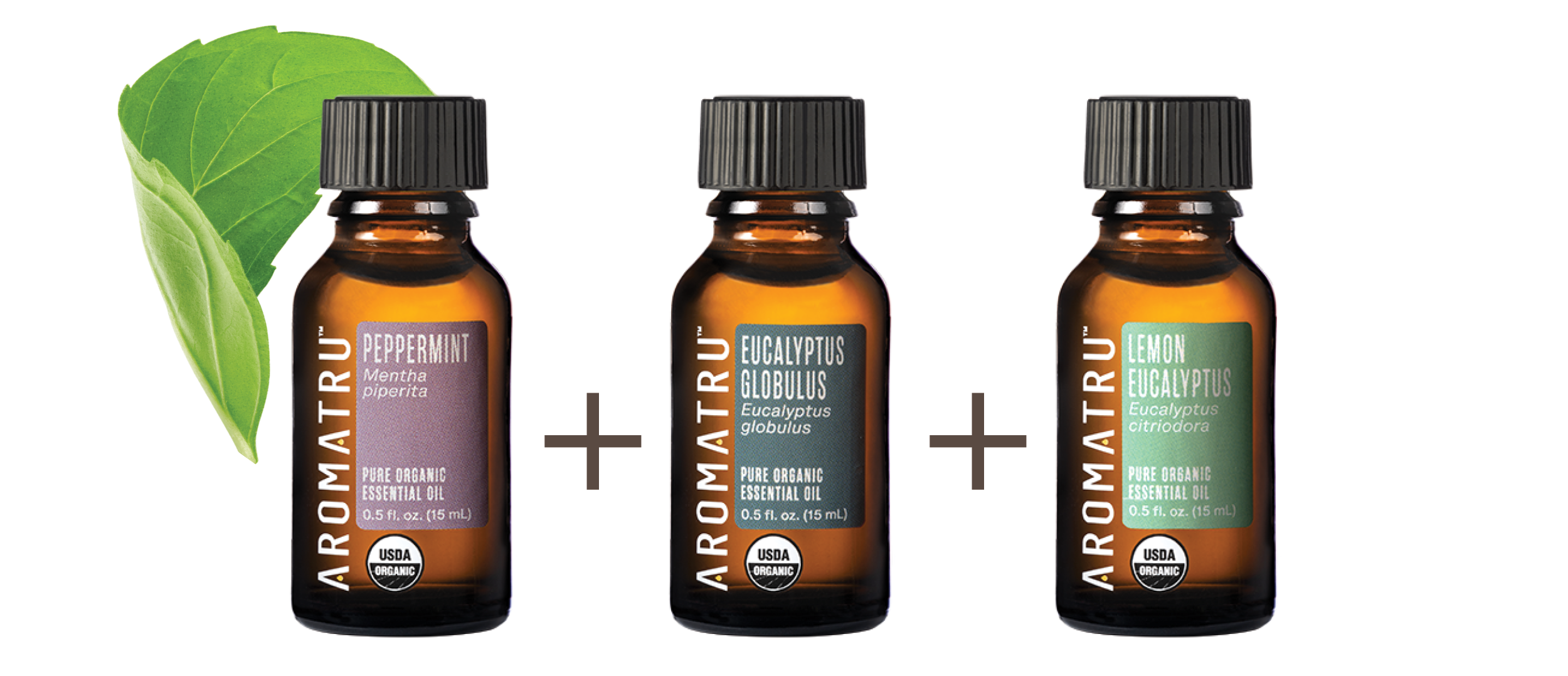 Peppermint + Eucalyptus Globulus + Lemon Eucalyptus
Peppermint essential oil can be paired with Organic Eucalyptus Globulus Essential Oil and Organic Lemon Eucalyptus Essential Oil to refresh your indoor space and encourage calm concentration. In addition to ridding your space of stale odors, this blend will encourage deeper, easier breathing.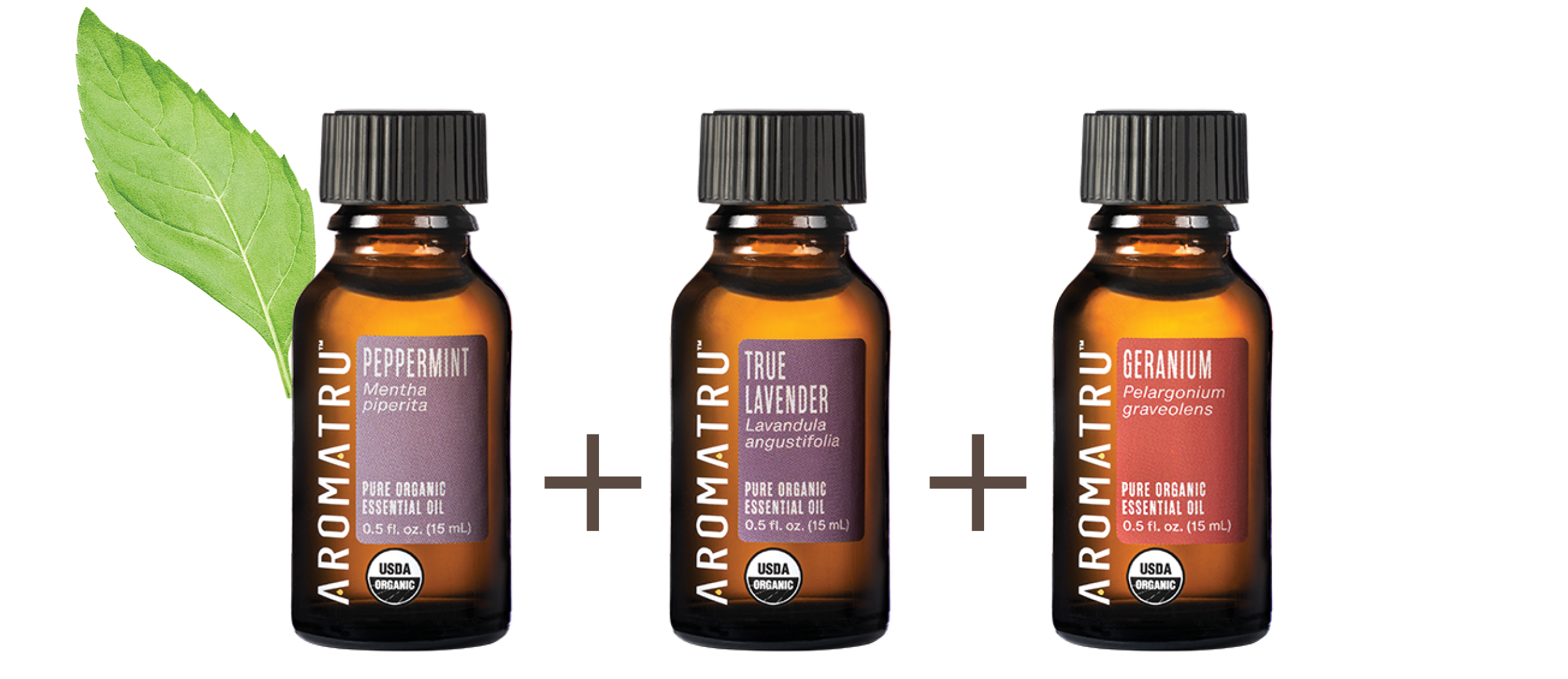 Peppermint + Lavender + Geranium
When Organic True Lavender Essential Oil and Organic Geranium Essential Oil are combined with peppermint, it will foster an environment of inner peace. These oils work together to instill an atmosphere of calm clarity and comfort.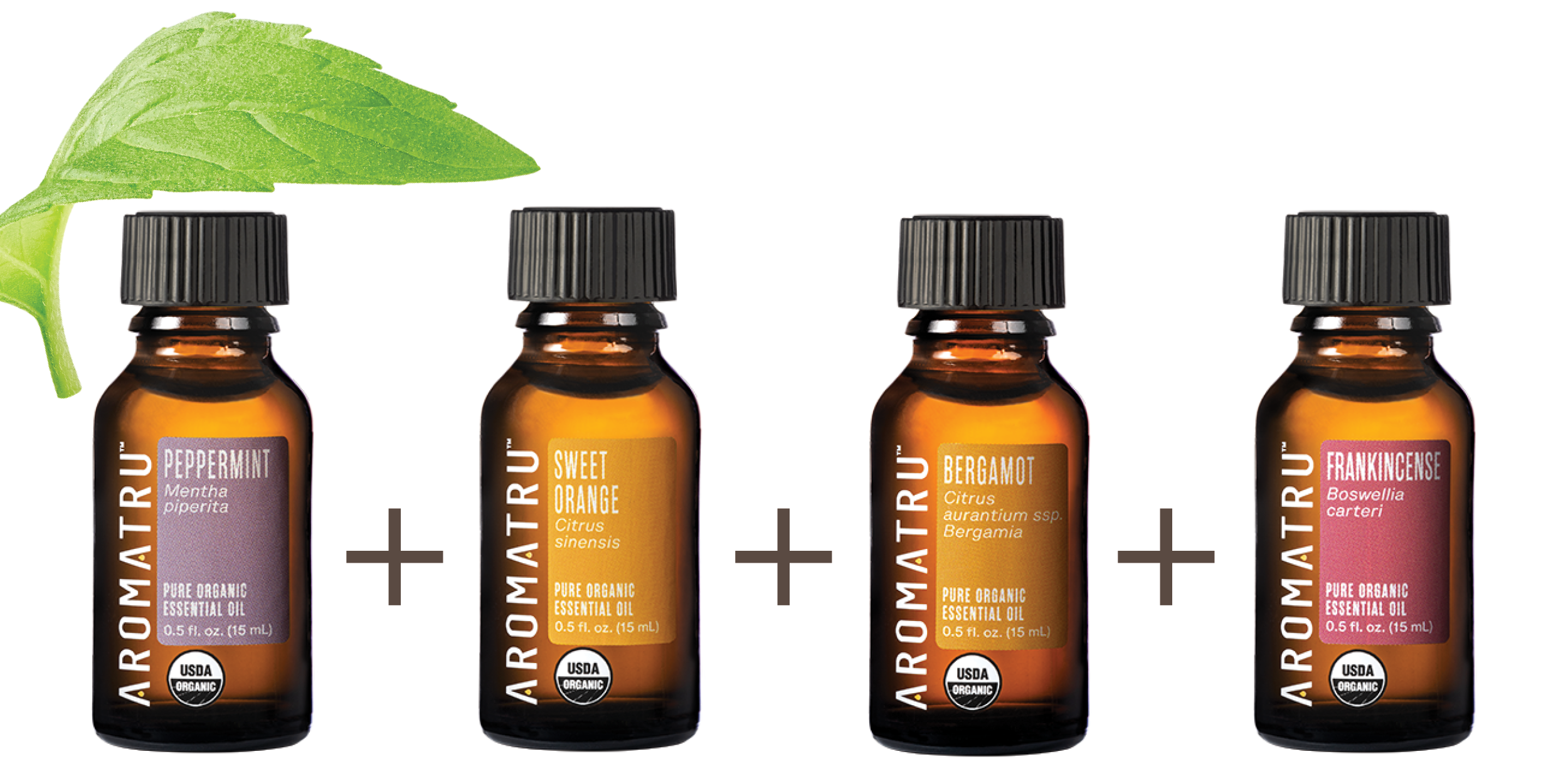 Peppermint + Sweet Orange + Bergamot + Frankincense
To support focus and create an energizing environment, you can join peppermint with Organic Sweet Orange Essential Oil, Organic Bergamot Essential Oil, and Organic Frankincense Essential Oil. Providing comfort to the mind and soul: these four come together to bring soothing warmth, relaxation, and optimism to any space.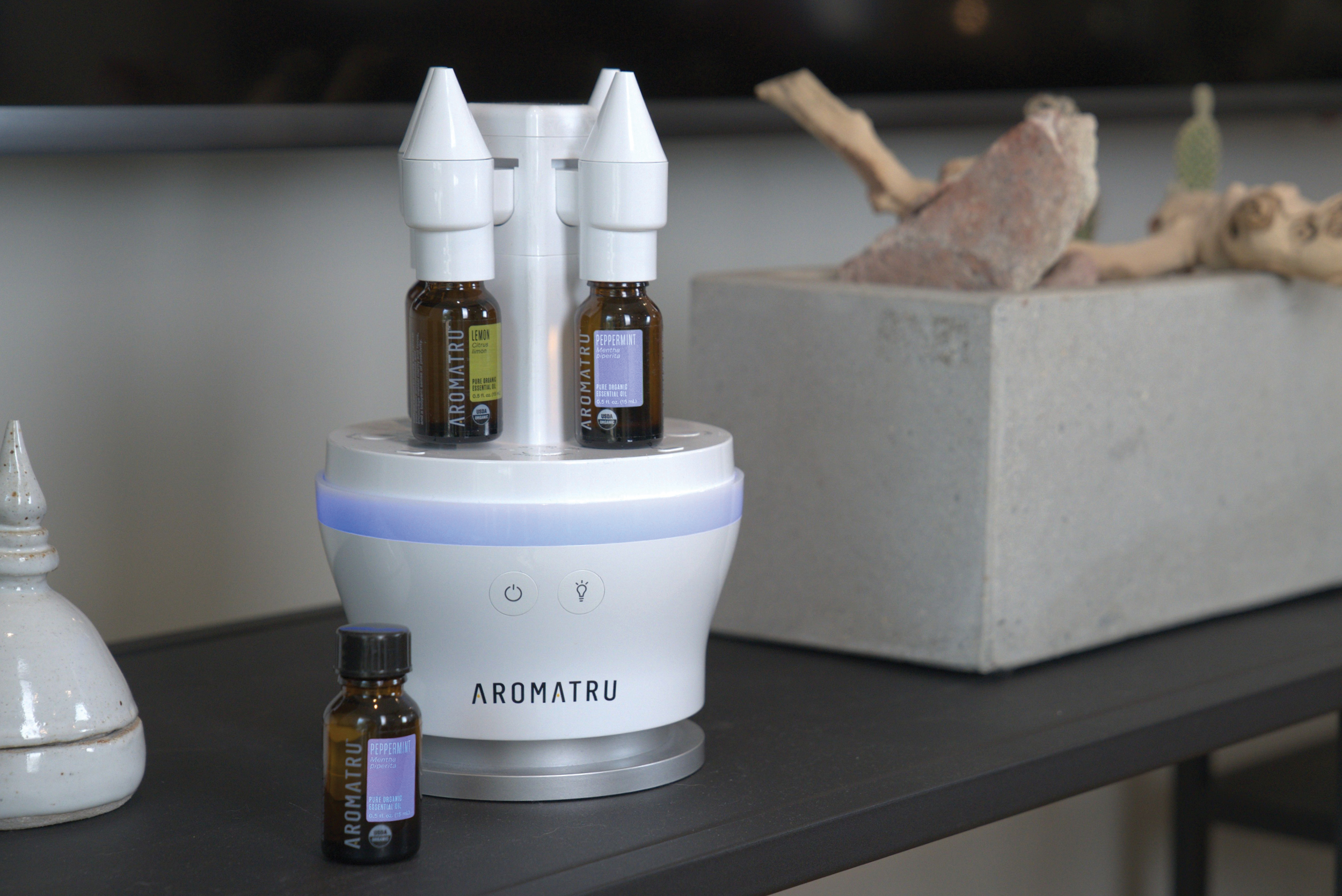 Pure Peppermint Essential Oil at the Touch of a Button
Whether you want to harness organic peppermint essential oil's refreshing aroma on its own or pair it with another essential oil (or three), AromaTru Waterless Diffuser technology can make it happen. You won't have to waste your time measuring drops or adding water. Just a touch of a button will diffuse pure, refreshing peppermint oil into your space.