Sale dates November 15th-December 11th 2023
AromaTru offers a safe way to set the mood, organically. Ensuring the health and wellness of your loved ones without compromising on scent, ease, or quality.
No Compromises. True Aroma.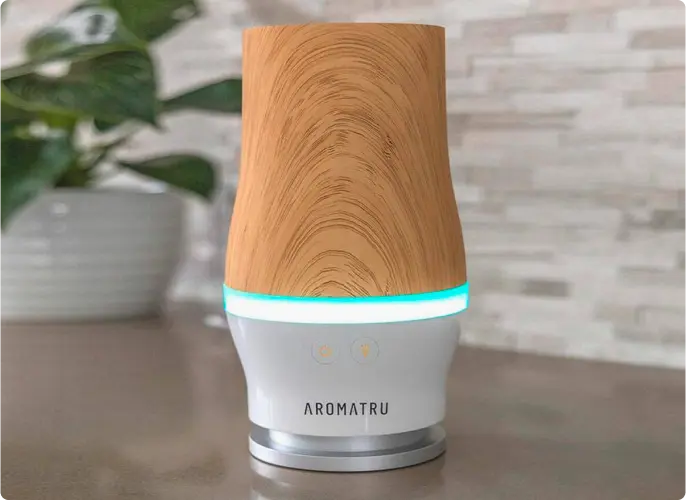 Smart Wi-Fi AromaTru Diffuser
Diffuse each oil for: 5, 10, 15, 20 seconds
Diffuse every: 5, 10, 30, 60 seconds
Timer: Diffuse manually for 10 minutes, 20 minutes, 30 minutes, 40 minutes or schedule up to 24 hours of continuous diffusion via the App.
Press the numbered buttons to select or deselect which oils are being diffused
Meet Mojay
The man, the myth, the aromatherapy legend
Gabriel Mojay has dedicated 35 years of his life to the healing benefits of aromatherapy with a focus on sustainable, non-toxic sources of pure essential oils.
When he's not deep in the jungles of Belize or in the jasmine fields of South East Asia, he's working with AromaTru to expertly curate essential oil combinations to ensure everyone gets access to the undeniable health benefits that clean and pure aromatherapy can provide.
READ MOJAY'S BIO
Our diffusers are different
Our diffusers atomize the oil without water, giving you pure essential oils without the mold, chemicals, and toxins that water-based diffusers can contribute to. The four chambers let you change your mind or curate combinations. It's easy, mess-free, and up to you.
No water necessary
4 chambers let you change oils and combinations at the push of a button (to create any atmosphere desired)
Works with both AromaTru Organic Oils and most other brands in 15ML bottle sizes
SHOP DIFFUSERS
SHOP DIFFUSERS
Our essential oils
are better
We rigorously vet the source and the method of extraction of our essential oils so you get safe and clean aromatherapy. No compromises. No exceptions. Because we know you'd do anything to ensure the health and wellness of the ones you love.
USDA Organic Certified
Wild-crafted free of pesticides
Long-lasting aroma
SHOP ESSENTIAL OILS
STEP 1
Insert up to 4 essential oil bottles into the diffuser.
STEP 2
Use the manual controls on the base or the optional app to program.
STEP 3
Enjoy clean aromatherapy for every mood.